Happy Birthday Mr. Henry "Hank" Aaron, on your 79th year. Thank you slicethelife, for this post.
slicethelife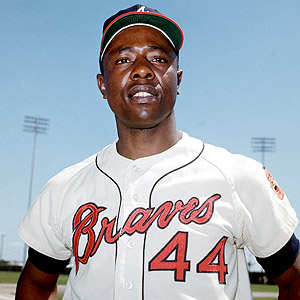 I know Barry Bonds broke the record but he was a juicer and I don't recognize his breaking Hank Aaron's record. Hank Aaron is 79 today. I remember watching on a Monday night back in 1974- Aaron breaking the tresured record of the great Babe Ruth. No one ever thought it would be broken. Aaron was one of the most consistant and under appreciated players during most of his career. He ended up with 755 homers.
below is Hank Aaron breaking Ruth's Record.