Huffington Post Newsletter: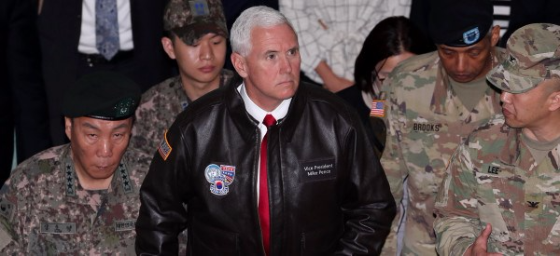 Monday, April 17
TENSIONS CONTINUE TO ESCALATE WITH NORTH KOREA The U.S. is working with China and other allies to develop a list of appropriate responses to North Korea's threats. According to South Korea, the country tried to launch a missile Sunday and failed. And Vice President Mike Pence cited recent attacks in Syria and Afghanistan as why North Korea should consider its next move carefully. The New York Times called it the "Cuban Missile Crisis in slow-motion." [Reuters]
HUNT IS ON FOR SUSPECT WHO ALLEGEDLY KILLED MAN IN FACEBOOK VIDEO "The chilling video, which was posted to Steve Stephens' personal Facebook page around 2 p.m. local time, showed him driving in his car and complaining about a woman. He then approached an elderly black man, shot him at close range and drove off." [HuffPost]
JUDGE HALTS ARKANSAS EXECUTIONS A federal judge temporarily blocked the executions of the eight men, and then came under fire forprotesting about it in front of the governor's house. [Reuters]
WHAT YOU NEED TO KNOW ABOUT TURKEY'S REFERENDUM And the country's new constitution. [HuffPost]
THE WHITE HOUSE POWER STRUGGLE CONTINUES Vanity Fair takes a lengthy look at the dynamics at play. Here's why you should be paying attention to top economic aide Gary Cohn. And a look at a White House that is run "like a family business." [Reuters]
68 SYRIAN CHILDREN KILLED After a suicide bomb hit a bus envoy carrying residents out of besieged towns. [HuffPost]
HOW AN ALL SPORTS COLLEGE FAILED, AND DESTROYED ITS STUDENTS "My dad, who's in prison, is eating better than we were at that school." [ESPN]
'WHAT WAS SAVED' "Ten years after the Virginia Tech shooting, objects of grief." [WaPo]
UNITED CHANGED ITS LAST-MINUTE CREW BOARDING POLICY To ensure this public relations nightmare never happens again. All the while, Delta changed its policy so that it can pay you up to $9,950 to volunteer to switch flights. [HuffPost]
YES, MELISSA MCCARTHY WAS SPICEY IN AN EASTER BUNNY COSTUME FOR 'SNL' THIS WEEK Our lives are truly complete. And Harry Styles' solo performance and that Jared Kushner skit were just icing on the cake. [HuffPost]
APRIL THE GIRAFFE FINALLY GAVE BIRTH It is now safe to go on Facebook again without 7 zillion notifications about the impending arrival. [HuffPost]
'THE FATE OF THE FURIOUS' JUST HAD THE LARGEST GLOBAL BOX OFFICE OPENING WEEKEND EVER This is in fact the eighth in the franchise of a movie about car chases. Some things never change. [HuffPost]
WELL THAT'S IT: A VOICE OF OUR GENERATION IS OFF THE AIR The "Girls" finale aired last night so prepare yourself for an onslaught of think pieces. Check out Matt Zoller Seitz's interview with show runners Jenni Konner and Lena Dunham as well as this look at the best quotes  throughout "Girls" six seasons and what it was like to grow up with the show. [HuffPost]
PRINCE HARRY IS ALL OVER THE NEWS For his secret Easter visit to see girlfriend Meghan Markle, his frank discussion of the impact of hismother's death and what the palace plans to do this summer to commemorate the 20th anniversary of Princess Diana's death. [HuffPost]
WE ARE COUNTING DOWN THE DAYS Until Netflix releases the TV version of "Where In The World Is Carmen Sandiego?" [HuffPost]

Start your workday the right way with the news that matters most — all with a dash of signature Morning Email snark.
Like The Morning Email? Send it to a friend! Does somebody keep forwarding you this newsletter? Get your own copy. It's free! Sign up here.
Check out HuffPost Politics and HuffPost Breaking News newsletters for more of the good stuff.
©2017 The Huffington Post | 770 Broadway, New York, NY 10003